Gallery Wrap/framing
How a piece hangs on the wall impacts the feel and look of the piece more than anything. If you are wanting to get away from glass frames, there are so many other beautiful options!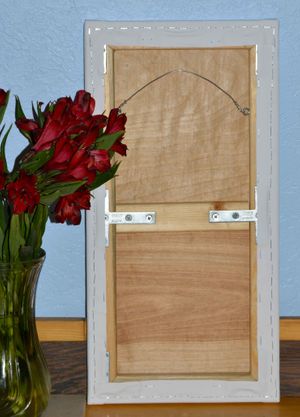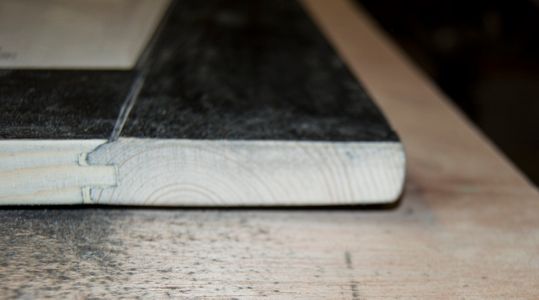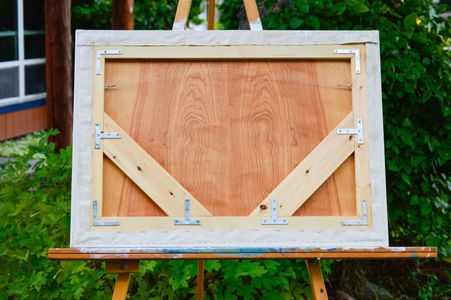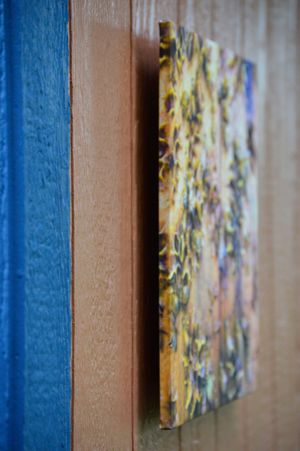 Traditional Gallery wrap stretcher with wood backing for protection
Giclee: I offer professional mirror image photoshop fomatting for your image for $18 set up. This will keep the original proportions of the iimage on the front of the frame but allow the colors and design to wrap around to the side of the piece. It gives the reproduction the appearrance of a painted edge and is a clean way to finish the piece
Gallery Wrap framing: After years of trying to protect fragile stretched canvas from denting in transport I developed a 1/16" wood backed version of the traditional stretcher. frame. These frames have the 1/16" board attached through the front of the canvas surface for a smooth seamless front and hard back. Unless specifide, I tend to build these with slightly under 1" deep thickness. They come ready to hang with metal corner supports and wire hanger attached. Many stain options are available for the back so you can match the wood to the image specifications.
These frames far exceed quality of online canvas stretchers available, and are nice enough to offer as professional reproductions
Price of Gallery wrap framing:
To get a price for a gallery wrap frame I use a simple formula that covers my supply cost and hourly work finishing and stretching the canvas image
Canvas Giclee Printing Cost
(Image size (width"+ 2"side+2"sidexheight"+2"side+2stretching side) x$0.13=canvas printing cost
+ Optional $18 charge for gallery wrap formatting
+ Framing Cost
(width"xheight"x$0.21)=gallery wrap framing cost
Example: 10"x20" gallery wrap framed giclee
14"x24"x$0.13=$43.68 Canvas Printing Cost
+Gallery wrap frame set up $18
+10"x20"x$0.21= $42.00
Total Cost= $103.68
Note*If frame is 9"x12" or under, I charge $35 rather than using the equation for the framing, so I can cover my materials and time building.
For a reference to selling cost if you are working professionally, I would assume at the very least doubling production cost for sale. This assumes payment for the artist for their time creating the piece, and is generally accepted in professional art markets. In the art market a piece of this size generally has the worth/value of $200-$260 in affordable art venues. Prices go up from there depending on your career as an artist and if you want to limit and number your editions.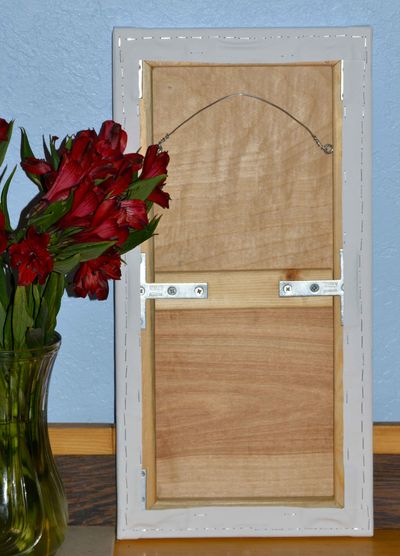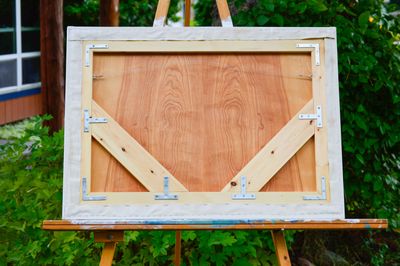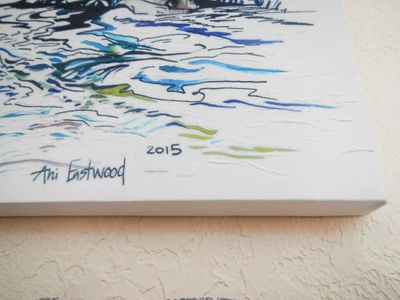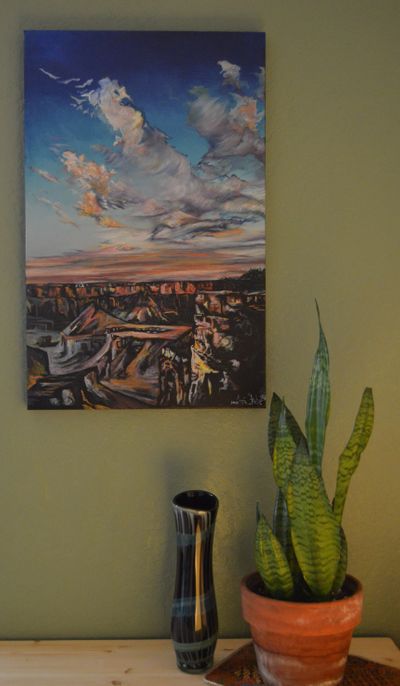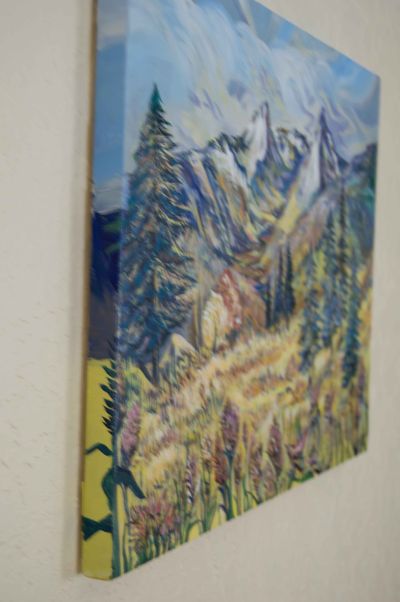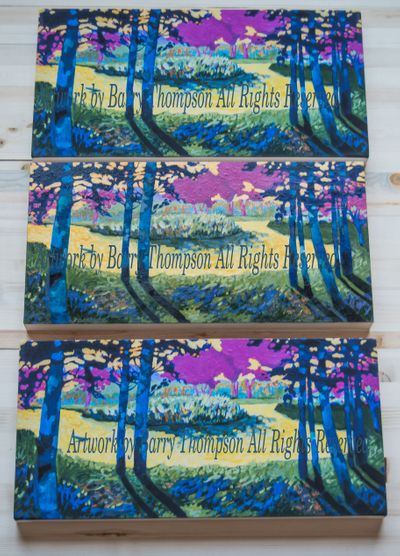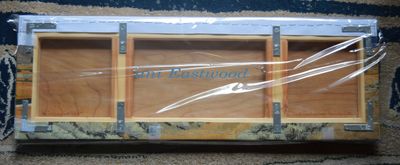 Modern Floating Frame Design: Give your pieces a unique clean look
Floating frames are becoming more prevelant and popular in the art world, especially in photography, but I think it can also be a nice look for many fine art pieces. Floating frames are sometimes executed on different substrates, such as gator board or metal. I prefer a wood substrate because mounting to a gator board is very expensive, not biodegradable and also destroys the archival nature of the piece because of the mounting glue. There has been a movement toward foams and plastic boards, but I guess you just have to decide as an artist how much plastic you want to utilize in your work.
This method of building a floating frame is a clean and sturdy look for pieces starting at 8"x10" all the way up to 20"x40". Frames are built on 1/2" to 1/2" plywood to give the edge a little dimension and create sturdiness, The float is pine 1x2 and is securely attached via screws through the front of the piece. The image surface is kept completely flat and smooth.and the image wraps around the side of the piece as shown in side views below. The wood backing can be stained to preference to finish the piece.I use miniwax stains primarily, and can be given direction on preferred colors.
Pricing: same as gallery wrap above. Please refer to pricing equations in traditional gallery wrap section.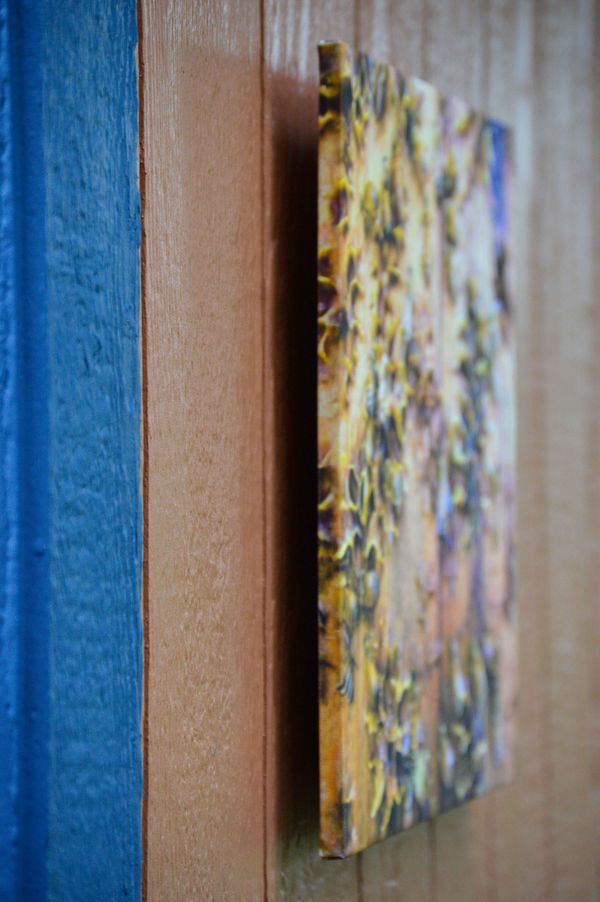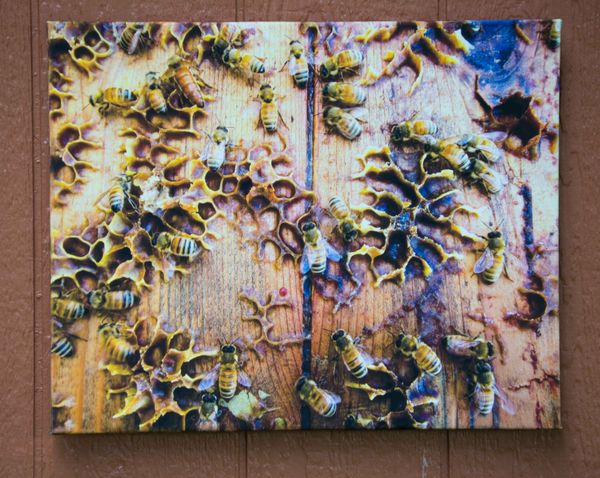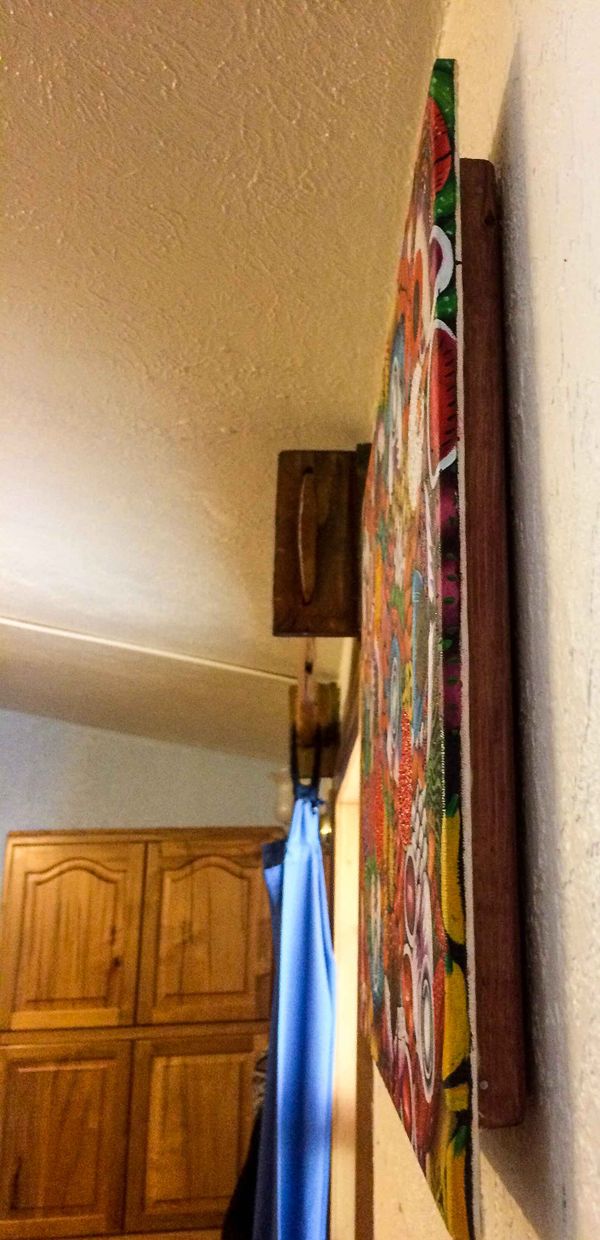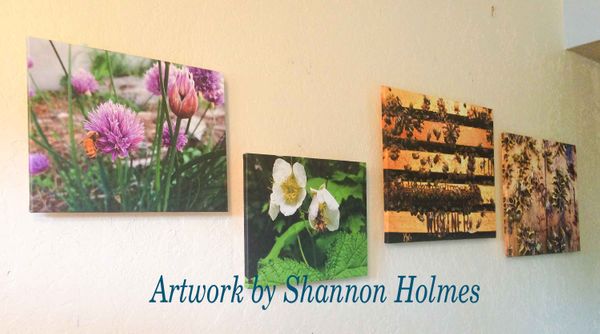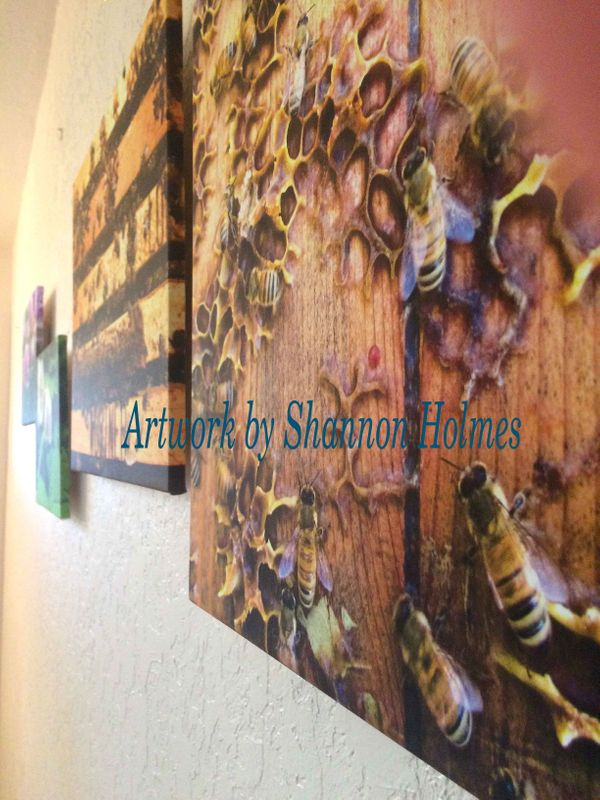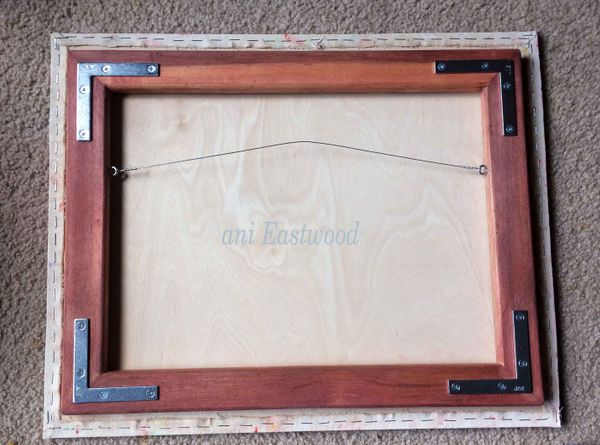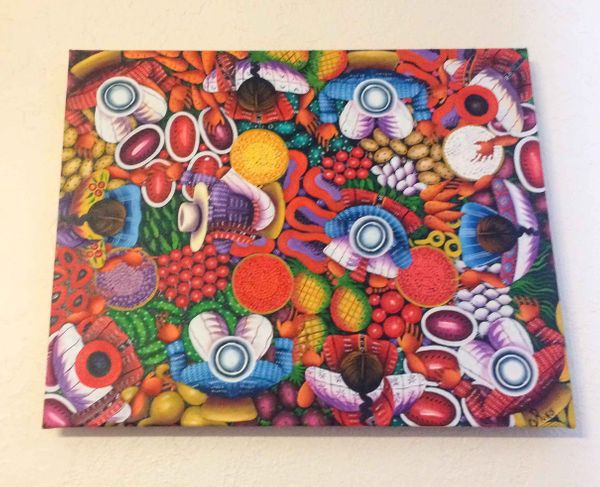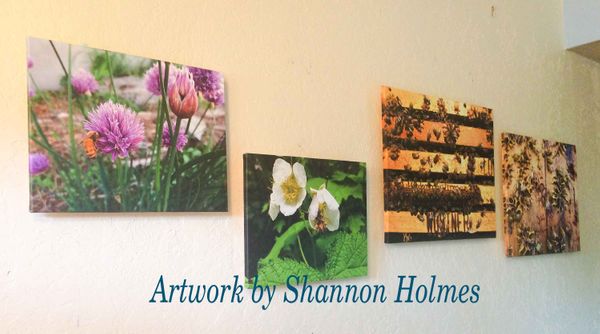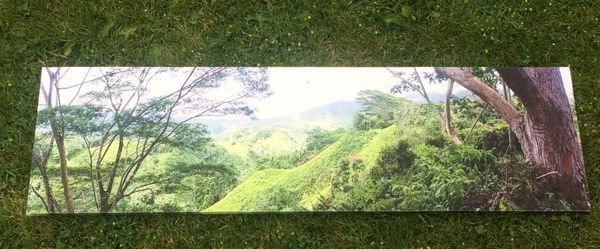 Stile and rale/ Wood Frame options
If you like the more standard look of a wood frame but don't want glass over your canvas here is a wonderful option for you I have designed. This frame style is unique. The canvas giclee is encased in cedar, hemlock, redwood or pine stile and rale frame. This creates a seamless wood backing and clean routered front edge.The other wonderful thing about this style is their thickness. This is a nice thin, light look with only 1" -2"thickness,.
Price: I have found these frames to be a little more time consuming than my other designs because of all the router work involved. However it is a very unique clean look that will impress any purchaser.
Pricing::
(Image size (width"+ 2"side+2"sidexheight"+2"side+2stretching side) x$0.13=canvas printing cost
+ Optional $18 charge for gallery wrap formatting
+ Framing Cost
(width"xheight"x$0.21)=gallery wrap framing cost
Example: 10"x20" Stile and Rale Giclee
14"x24"x$0.13=$43.68 Canvas Printing Cost
+10"x20"x$0..39= $78.00
Total Cost= $121.00